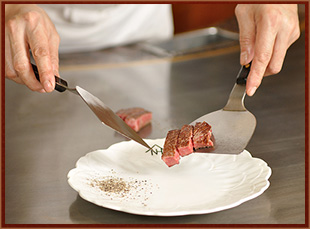 We are committed to your satisfaction.
Find delicious cuisine here :
You cannot miss this unique Japanese cuisine experience of Teppanyaki that uses an iron griddle to cook fresh and high quality ingredients to perfection right in front of your eyes.
Our delicious Teppanyaki cuisine and private / semi-private rooms guarantee your satisfaction for any occasions whether it is a lunch/dinner gathering, a business meeting, or a romantic date.